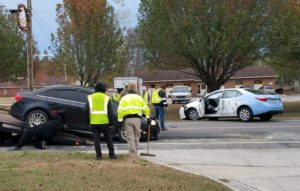 If you are in a car accident you are likely to be very upset, and it is also extremely likely that others involved in the incident, at a minimum, are likely to be distressed as well. Although most auto accidents that happen in Massachusetts are usually impossible to predict you can take steps to prepare for what could happen following an accident—regardless of whether or not you are at fault or are the victim of another party's negligence. The first thing you should remember when pursuing an accident claim is that it is always best to work with a Melrose Massachusetts accident lawyer who understands the law surrounding auto accidents. Below are major dos and don'ts of an accident claim.
1. Be cautioned regarding volunteering "I am sorry". Regrettably this natural response has been uttered by people who were not actually at fault.(ie: When they haven't seen someone who has stepped out between cars)
2. Quietly ask for contact information from anyone present and take pictures
3. Collect all basic information about the party at fault, including their Insurance information.
4. Gather as much information about the accident and take pictures of the scene and damage to your vehicle or property as well as the injuries you sustain. These will serve as powerful evidence to support your claim
5. Contact an auto accident attorney
4 Keep track of all your communications with the at-fault party, their lawyer, and/or their insurance provider.
6 Save bills and receipts of all expenses relating to the accident claim, including medical bills, repair work receipts, and all other losses relating to the incident
7.. Understand your insurance policy. Many people purchase insurance just
because it is required by law and not necessarily because they might need it. Purchasing uninsured motorist coverage is a very affordable and effective means of insuring yourself when another driver is at fault and has no insurance. Millions of motorists are involved in auto accidents every year, which means that there is quite a high probability that you will be involved in an accident at some point in time. This is why you should always be mindful about your auto insurance purchase and take time to understand the policy.
What NOT to do:
1 . It is the job of the at-fault party's lawyer or insurance agent to minimize and even eliminate your recovery. Never give a recorded statement until you speak with an auto accident attorney. Never admit liability even when you think you are at fault. Avoid making statements that could hurt your claim or be used against you.
2. Don't assume that an insurance agent has the final word on your claim's worth. Consult with a Melrose Massachusetts accidents lawyer to ensure an accurate estimate of the claim's value.
3. Do not accept full/final payment unless you are certain that the amount offered is sufficient to compensate for all your losses; and
4 Do not sign a waiver or release or any document that you do not completely understand. Seek the help of an experienced lawyer to protect your rights.
If you or a loved one has been injured in an automobile accident, schedule a free consultation with John Tramontozzi at the Tramontozzi Law offices. As a former insurance defense counsel, he has extensive knowledge from working on both sides of the issue as well as years in private practice. This experience saves time, worry, and minimizes unnecessary expenses. Contact John Tramontozzi at Tramontozzi Law Offices for a free initial consultation.
Tramontozzilaw.com/ten-things-to-do-if-you-are-in-a-car-accident-in-massachusetts/
What to do if I am Hit by a Car  http://tramontozzilaw.com/what-to-do-if-i-am-hit-by-a-car/